Women's quota impresses Syrian First Lady
June 20, 2008
Special Correspondent
Good at grass roots level, but she has reservations about extending it to national politics
Photo: V.V. Krishnan
<![if !vml]>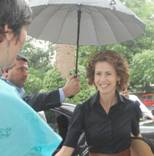 <![endif]>
Asma al-Assad, wife of the Syrian President, interacts with women journalists at the Indian Women's Press Corps in New Delhi on Thursday. —
NEW DELHI: If there is one thing that Syrian First Lady Asma al-Assad will carry back with her from India, it is the Indian experience with women's reservation in panchayats and local self-governments.
"I will take the quota system in panchayats back home with me to encourage local level participation of women in politics and governance," she said in an informal interaction with journalists at the Indian Women's Press Corps here.
Though Ms. Assad is impressed with the Indian system of quota for women at the grass roots level, she has reservations about extending it to national politics.
An issue of debate
Admitting that it is an issue of debate in her country – which has the highest percentage of women in Parliament at 13 per cent – the 33-year-old First Lady fears that quota at the national level for women would make the women's movement complacent and result in the loss of passion and drive to fight for women's empowerment.
"Syria is a pioneer in women's empowerment in the Arab world, but it is no longer an exception. We got franchise along with men in Syria. Our Vice-President is a woman. And, we have women in the Army, in business… the bottomline is women are everywhere. The challenge we face is that there are few women involved at the local level in politics and governance."
Stating that secularism came easily to her country – thanks to Judaism, Christianity and Islam being part of Syria's heritage instead of being imported – Ms. Assad lamented the growing incidence of sectarian violence in her country's neighbourhood. "Sectarian violence is a disease that is contagious and difficult to reverse because it attacks the mind."
The sectarian violence in the Middle East, according to the British-born-and-bred-Syrian, had strengthened her nation's conviction that this is a tendency which should be avoided. "We have seen the worst of it in our neighbourhood."
As for the role of the conservative religious leadership in her country and its polity and where it fitted in the secular fabric, Ms. Assad's response was: "They are part [of] the healthy debate in our country."
Asked about the percentage of women who wear the `hijab,' she said: "I can't say. What is important is not how women dress, but how we use our mind. `Hijab' and physical appearance is not our preoccupation. What is important is that women who wear the `hijab' are active in public life. For our women, it is a matter of choice."
http://www.hindu.com/2008/06/20/stories/2008062055971300.htm