King of the West Bank
He's the richest man in Palestine who built a Renaissance-style palace during the second intifada. Now Munib al-Masri wants to secure an independent state for his people. By Donald Macintyre
Thursday, 26 June 2008
<![if !vml]>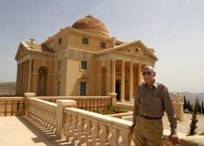 <![endif]>
Quique Kierszenbaum Munib al-Masri built a jaw-droppingly ostentatious home on the edge of his beloved Nablus
There aren't many people who would build a replica of La Rotonda, Antonio Palladio's 16th century high Renaissance architectural masterpiece, on top of a mountain overlooking the troubled and impoverished West Bank city of Nablus. There are even fewer who would choose to complete it during the second intifada, when Palestinian militants and armoured Israeli forces were trading daily fire a mere 15 minutes' drive down the hill in the city's casbah and the teeming alleys of the Balata refugee camp.
But at 74, Munib al-Masri has the self confidence – and the money – not to worry about what many people would or wouldn't do. Not only did he decide to hire 500 local workers to build a jaw-droppingly ostentatious home on the edge of his beloved Nablus to return to after decades as a much-travelled top international businessman; he made the domed mansion a floor higher than the Palladian original in Vicenza "because I have a large family".
And he filled it with his stunning, if crazily eclectic, lifetime collection of artistic treasures: the 16th century statue of Hercules in the entrance hall; the Kew Gardens-like greenhouse, built for Napoleon III as a present for one of his many mistresses; the vast Louis XIV tapestry of a dancing nymph; the strangely Goya-like Picasso portrait of a woman; the haunting Modigliani drawing of a face in profile; the Chinese-style four-poster bed from Brighton pavilion; the priceless chests of cherrywood, tortoiseshell and mother of pearl; and the ornately carved throne, with its backing and armrests of green silk woven with golden stars, that belonged to Khedive Ismail, the 19th century monarch of Egypt and grandfather of King Farouk, the country's last king.
"Does it make you feel good?" he asks the visitors he invites to sit in it. As if that wasn't enough, the rich remains of an 4th century Byzantine church, complete with perfectly preserved mosaics, was excavated during the building of the house and is now Mr Masri's very own archaeological museum. A power networker who guided Tony Blair round Nablus earlier this year and lunched with President Nicolas Sarkozy in Bethlehem this week, Mr Masri could live anywhere, of course: New York, London, Geneva. He admits to being "maybe" the richest Palestinian in his native land "though there are plenty of richer ones outside it". That he has chosen instead to come home to Nablus is symbolic of the ardent nationalism he professes.
The multi-millionaire, philanthropist, close friend for 40 years of the late Yasser Arafat (whose offer of the prime ministership of the Palestinian Authority he turned down three times), and opponent of violence, he says his work is increasingly focused on seeing a Palestinian state before he dies. "I have eight stents and there is no room for the ninth," Mr Masri jokes about his less-than-perfect heart. "Before I go, I want to see an independent Palestine living side-by-side with Israel. For the last 45 years I have worked for peace with Israel and I think the Israelis are missing a big chance. They're not really realising they have to live with us – two groups of people living on one ground."
We are a little late for our 7.30am meeting because Beit Falastin, or "Palestine House", as the early-rising Mr Masri has named his surrealistically located stately home, is just inside the Palestinian Authority-controlled Area A, which Israeli civilians are prohibited by their own government from entering, and the Israeli army checkpoint at the entrance to it is still closed when we arrive. But it is worth waiting for.
Laid out at one end of the massive dining table is a mouth-watering Palestinian breakfast: home-baked pitta, mint tea, labaneh (yogurt cheese), boiled eggs, peaches, cucumber and tomatoes with mint, pure olive oil – everything, Mr Masri proudly announces, from his 70-acre estate, except the bananas and the clear honey, which is from Yemen.
Mr Masri left home at 17, a wide-eyed youth from one of Nablus's most notable families, to study at the University of Texas. He returned to the Middle East in 1956 (pictures at the time show him with a more-than-passing resemblance to Errol Flynn) with an MSc in government and geology, a brand new blue and white Chevrolet, a blonde American wife, and a baby. He would work for the American-owned Phillips Petroleum as regional president; but he had already founded what was to become his most important company, the Engineering and Development Group, Edgo.
"Arafat was my hero," he explains today, adding that for more than 40 years "we slept together, laughed together, joked together, cried together. He was my hero even when he screwed up." Mr Masri's refusals of the premiership were based in part on his short-lived experience as a minister in the immediate post-Oslo Palestinian Authority.
"I said 'Abu Ammar, I love you dearly. I want to be your friend for life. But it's very difficult to work for you.' He was my hero but he knew nothing about management. I could not work like that. I could not tolerate the privileges Arafat bestowed on people – 50,000 of this 20,000 of that. You have to have system. You have to have procedure." But Mr Masri was at Arafat's side urging the path of moderation at crucial moments, like that in 1988 when the PLO leader finally announced the recognition of Israel and he has no doubts that without him "we wouldn't be here". In the very early Nineties the Nablus man rejected the suggestion of the then backbencher Yitzhak Rabin that he would make a more a suitable president than Arafat. "I told him: 'No-one can consummate this except Arafat.'"
Twenty years later, Mr Masri depicts his business activities here and his venture into politics – the recently formed Palestine Forum, facing the uphill struggle of representing a "silent majority" outside Fatah and Hamas – as geared to realising that dream. The company he formed, Padico (Palestine Development and Investment Company), with the stated "primary goal ... to develop the infrastructure of Palestine", owns among much else a 30 per cent stake in PalTel, the telecommunications and mobile phone company operating in Gaza and the West Bank.
He argues that even within the severe Israeli restrictions – to which he expresses vigorous opposition – depressing the Palestinian economy, it is important to create as many jobs as possible to prevent Palestinians being driven out by economic pressure. "I deeply believe through prosperity we could stay our ground. We don't emigrate. During the first intifada per-capita income was $1,800. Now we are below $1,000. If you create prosperity people will stay and resist occupation." By resistance, he says, he does not mean violence.
To the most frequent criticism, that he has been able to run a monopolistic network of businesses here, he insists: "We came here, with $170m, 30 or 40 us. We now have 30,000 shareholders. We did not touch any traditional business." His critics, he says "are most welcome to bring any company they want. It was a monopoly because there was no one else coming here who had the reputation."
As a man who can meet Mahmoud Abbas, whom he strongly backed as both Prime Minister and President, and Khaled Meshaal, the exiled Hamas leader, whenever he wants, Mr Masri has striven to avert the Palestinian split.
Before the municipal elections in Nablus in 2005 – which Hamas won by a landslide – he proposed that the factions agree to an allocation of seats in which Hamas would have a minority. Hamas, he says, agreed but Fatah, fatally for his hopes of making Nablus a model of consensus, did not.
Equally, after Hamas won the 2006 legislative elections to its own surprise "we sent messages to Khaled Meshaal and Ismail Haniyeh saying 'Please don't form a government. Stay on the Legislative Council (the parliament) since you don't want to recognise Israel."
Now his Palestine Forum is strongly urging reconciliation between Fatah and Hamas once again. Mr Masri has welcomed the ceasefire in Gaza but argues that the deal with Hamas cannot be left in a dangerous vacuum. First he wants to see a fresh agreement between Hamas and Fatah, which be believes in the end will enhance rather than diminish Mr Abbas as a negotiating partner with Israel. And secondly he argues that Israel must start making rapid concessions to Mr Abbas – including a truce in the West Bank, the lifting of "four or five" major checkpoints and real progress in the current negotiations between Israel and Mr Abbas on a future Palestinian state.
The alternative, he fears, will be "more fanaticism, more terrible things" and for Israel the terminal loss of the two-state solution which can guarantee its future. "They're not giving [Mr Abbas] anything. I think that in Mahmoud Abbas and [Palestinian Prime Minister] Salam Fayad, they have the best guys to really reach a settlement.
"We have accepted 23 per cent of the land [of mandatory Palestine]. I never thought I would but for very many years we have been saying we would and Arafat was the one who made people accept it. I believe in talks deep in my heart but the Israelis want to have their cake and eat it. They don't have the courage to say let's share Jerusalem. Together we could be a model. There is enough room for everybody. I'm 74 years old and I don't want to be like Arafat and not see it."
http://www.independent.co.uk/news/world/middle-east/king-of-the-west-bank-854336.html