Firm of Muslim Women Attorneys Offers Legal Services to Community

By NOREEN S. AHMED-ULLAH
CHICAGO TRIBUNE
Published: Friday, September 12, 2008 at 10:00 p.m.
Last Modified: Friday, September 12, 2008 at 10:00 p.m.
CHICAGO
<![if !vml]>

<![endif]>        <![if !vml]>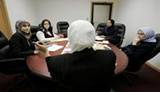 <![endif]>
KUNI TAKAHASHI | CHICAGO TRIBUNE PHOTOS
ATTORNEYS Maryam Khan and Heena Musabji, from left, talk during a staff meeting at the Amal Law firm in Palos Heights, Ill.

 In what may be the nation's only law firm composed solely of Muslim women, the attorneys represent the ethnic and religious diversity within the Islamic faith: Some cover their hair, some don't. Some are Sunni; others are Shiite, and at least one is happy to be secular.
The six women hope that by founding Amal Law Group, they are helping to dispel common stereotypes held about Muslim women.
"People think that somehow we're weak and not able to express opinions," said Janaan Hashim, the firm's 41-year-old founder, who has mixed Iraqi and Scottish-Irish heritage.
"Or that we're hidden behind the veil," said Heena Musabji, 29, of Indian heritage, who tucks her headscarf inside a cute chiffon blouse and prefers a well-heeled shoe.
Maryam Khan, 28, said some people - even clients at times - are surprised that she is competent.
"People think that we are prohibited from getting an education and being engaged in society," said Khan, who says she always knew she wanted to be a lawyer.
The firm, which opened quietly last year but hosted a grand open house this spring, offers the Muslim community legal services on issues from civil rights and employment regulations to criminal, family, real estate and immigration law.
With a large Arab community located a short drive away, the Palos Heights, Ill., firm has already begun seminars for Muslims on drafting prenuptial agreements and helping teens avoid traffic tickets. It's an opportunity not only to teach Muslims about their rights but also to familiarize some with the laws that govern their country.
"They are defeating stereotypes on multiple levels," said Ahmed Rehab, executive director of the Chicago office of the Council on American Islamic Relations, an Islamic advocacy group. "On the one hand you have Muslims standing up for justice and due process, and on the other hand you also see Muslim women succeeding in the professional world, leading the community in more ways than one."
In the years following the Sept. 11, 2001, terror attacks in New York and Washington, Muslims have been subjected to increased FBI scrutiny of mosque-goers, racial profiling at airports and large-scale detention and deportation of Muslim men following the Justice Department's Special Registration program.
It was within that climate that many Muslims decided to pursue law and "defend" their communities, Rehab said. Some of Amal's principals - those who weren't already in law school - decided around this time to become attorneys.
One of the women was denied the opportunity to donate blood in the days after 9-11. Others have represented Muslims denied leases by landlords or filed complaints with the U.S. Equal Employment Opportunity Commission against employers who would not hire Muslims, easily identifiable by their beards or head scarves. Since 2005 alone, CAIR-Chicago has logged more than 1,200 cases of Muslims reporting discrimination.
Clients know that when they come to the firm, they will find attorneys who understand the Muslim perspective, said Rima Kapitan, 27, the youngest lawyer in the group.
"I think it's good for the community to have the opportunity to be represented by Muslims and hopefully the community will also feel empowered that six Muslim women attorneys are representing them," said Kapitan, who does not cover her hair and dresses in knee-length skirts. Of Palestinian and European heritage, she identifies herself as "culturally" Muslim.
Also in the group is Nikia Marie Bilal, 31. She is African-American and was born into the Muslim community led by Warith Deen Mohammed. Majdel Musa, 31, is Belgian on her mother's side and Palestinian on her father's.
The women's differing opinions on the practice of Islam rarely are expressed in office discussions, they say. Islam might come up only when drafting a will according to a family's wishes to follow Islamic guidelines.
"We never talk about it," Hashim said. "We are all open-minded and respect each other's beliefs. It just doesn't matter to us."
Instead, Hashim, who said she has an ancestor on her mother's side who signed the Declaration of Independence, hopes that when people see the lawyers at her firm they will realize that not all Muslim-Americans are foreigners. They are not the "other."
"We're part of the American fabric," she said.
Khan pipes up: "You may not be used to seeing it, but this is what Muslim women in America look like. We're educated and we're professionals, and we're not an anomaly."
http://www.theledger.com/article/20080912/news/809120367&tc=yahoo