Delta mosque will be one of B.C.'s largest
Non-mainstream Muslim sect plans opening for 2009
Suzanne Ahearne
Vancouver Sun; with files from Reuters
Tuesday, July 08, 2008

http://www.canada.com/vancouversun/news/westcoastnews/story.html?id=7d937bf4-536c-4fd1-9995-23b0d61fe0c9
<![if !vml]>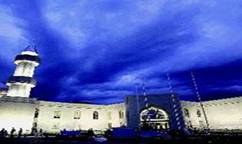 <![endif]>
DELTA - When Canada's biggest mosque was officially opened in Calgary last weekend, the Ahmadiyya Muslim community announced plans to open a comparably large mosque in Metro Vancouver.
The plan calls for a mosque of 25,000 to 30,000 square feet to be built on the 3.8-acre site of a now-demolished school at 9570 River Road in Delta.
Though shy of the 48,000-square-foot worship, education and cultural centre in Calgary, the Delta mosque will still be one of the largest in B.C.
Farhan Khokhar, head of communications for the Ahmadiyya Muslim Ja'amat Canada, said the mosque, to be completed in 2009, will be called Baitur Rahman, or House of Gracious God.
The Ahmadiyya Muslims, who number between 2,000 and 3,000 in the Vancouver area, are considered by some other Muslims to fall so far outside the mainstream as to be declared non-Muslims.
The group originated in Pakistan at the end of the 19th century. Founder Mirza Ghulam Ahmad is considered by many Muslims to be one of the false prophets Mohammed warned believers about almost 1,400 years ago.
In the country of the movement's birthplace, and in Bangladesh and Indonesia, members of the sect have been targets of violence.
Al Islam, the Ahmadiyya Muslim community's website, claims worldwide membership exceeding tens of millions of members.
Sikhundar Khan, president of the BC Muslim Association -- which represents most of the 50,000 Muslims in B.C. -- said, "We don't recognize them as Muslims. Muslims in B.C. are well aware of what is right and what is not right."
However, while saying the predominantly Sunni Muslim population in B.C. do not associate with the Ahmadis, Khan added, "We stand by the Canadian government's position that allows for all people of all faiths to practise their religion."
The Calgary mosque, which cost $14.7 million to build, will serve the same size community as the one in Vancouver.
Khokar said the group kept costs low by employing a huge volunteer workforce alongside construction trades. The Ahmadi community in Calgary raised $8 million, he said, with some members re-mortgaging their homes to help fund the project.
"Children donated their pocket money too. It's all part of our faith."
The Vancouver mosque is expected to cost $7-$8 million and the group hopes to build it with the same combination of member donations and volunteerism.