SR7b plan to expand Prophet's Mosque
<![if !vml]>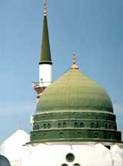 <![endif]>
Last Updated: Sunday, 20 July 2008
Jeddah, July 20: Preparations are being made for a nearly SR7 billion expansion of Holy Prophet's Muhammad's (peace be upon him) Mosque in the holy city of Madinah.
Custodian of the Two Holy Mosques King Abdullah bin Abdulaziz has issued instructions for the acquisition of property towards the east of the Holy Mosque where an expansion project was launched in 2006.
Habib Zain Al Abdeen, acting secretary-general of the High Authority to Develop Makkah and Madinah, said that the properties to be acquired extend from the eastern side of the Mosque to the first ring road (King Faisal) going up until the Al Safa district in the north.
He has been quoted as saying by the Arabic daily Al Madinah that details of the project and the compensation that will be paid to the owners of property that come under the expansion will soon be announced, and will be in line with the established compensation system.
The new expansion will include the Bani Al Najjar Project area, the old maternity hospital and the Al Dikhail hotel.
The new expansion of the Prophet's Mosque from the eastern side will cover an area of 37,000 sq-m.
It will also provide parking for about 420 vehicles and 70 buses.
There will be three underground tunnels linking the expansion to the first ring road. King Abdullah laid the foundation stone for the new expansion two years ago.
The move to expand the Prophet's Mosque was one of the first decisions taken by Custodian of the two Holy Mosques King Abdullah after his accession in August 2005.
The expansion of the eastern courtyard of the Prophet's Mosque and the setting up of 182 large umbrellas to provide shade around the mosque will create additional prayer area for some 270,000 worshippers. The project follows the largest expansion of the mosque carried out by late King Fahd.
It can now accommodate over a million worshippers at the height of the Haj and other peak seasons.
One of the extraordinary features of King Fahd's expansion project was the creation of the 27 main plazas, each equipped with a state-of-the-art sliding dome, which can be rapidly opened or closed according to the weather.
Each of these sliding domes can be operated in unison or individually.
The Prophet's Mosque has also benefited from the building of six further minarets, each soaring 105 metres and crowned with a gold-plated crescent, each weighing no less than four tonnes.
The area around the Prophet's Mosque has also been developed and seven specially designated new entrances have been installed to ensure the smooth passage of pilgrims in and out of the building. -Agencies
http://siasat.com/english/index.php?option=content&task=view&id=283895&Itemid=61&cattitle=Arab%20World